Sawadee and hello again from Pattaya!
Like some of you may already read in our last blog post (https://blog.be-lufthansa.com/en/23329-2/) us ProTeam trainees are currently in Pattaya to support the Human Help Network Foundation Thailand. For this project we are divided into different groups, the first group, which I am part of, is working directly in the Children Protection and Development Centre, one group in the Drop-in Center and their Mobile Transport Unit in Pattaya and one group is doing Public Relations work for the Human Help Network in Pattaya and its surroundings.
While I am writing this blogpost already more than half of our ProSocial time here in Pattaya has passed which is why we would like to offer you some more insights into the work we do here.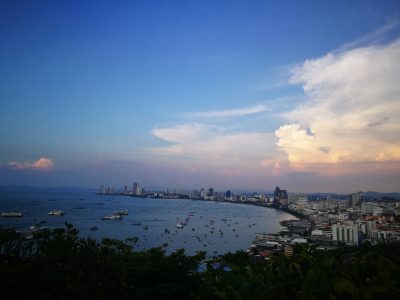 The Khao Pattaya View Point (see above) offers a great overview of the city Pattaya itself, from up here everything seems to be calm and peaceful, but one shall not be mistaken by the beauty from above. Pattaya's booming construction sector attracts thousands of workers from Thailand's poor rural areas and neighboring countries. Families migrate to Pattaya hoping for a better life. They live in improvised camps near the construction sites, where there is poor law enforcement and where children stay unsupervised during the long working hours. Furthermore, over the last decades Pattaya developed an international reputation for child prostitution and hosts a substantial number of homeless and impoverished children. Many of them live on the streets and have been trafficked, endured pedophilic attacks or other physical and emotional abuse. What characterizes them all, are an unstable social environment and vulnerability to people with bad intentions, other physical and emotional abuse. This is where the Human Help Network Foundation Thailand comes into play: As an independent partner organization of the Human Help Network (which was founded in Germany in 1990) the HHN Foundation Thailand follows the same main objective of providing the prospects of a better life to disadvantaged young people in Thailand. Key to this is the access to education in its broadest sense and a safe and stable social environment.
This is what the Child Protection and Development Center in the outskirts of the city as well as the Drop-In Center in the city center are aiming at: empowering young individuals to lead independent, smart and healthy lives which is what we are trying to support here as good as we can during our time in Thailand.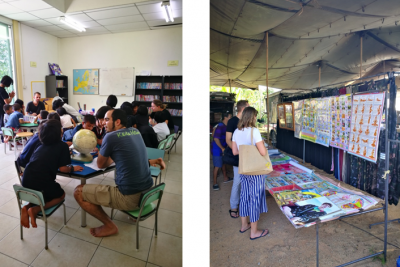 Above you can see one of our English classes in which Samuel (picture to the left) is teaching the kids about the different continents and countries, on the right you can see Moritz and Puck buying some class materials to make the learning of the Latin alphabet more fun and exciting for the kids at the CPDC.
Next to our three different projects which we are taking care of during our ProSocial time we are currently planning, training and in the end also executing a big Circus Show together with almost all the kids from the Children Protection and Development Center (more than 60), as well as the children from the Drop-In Center in the heart of Pattaya (80 children).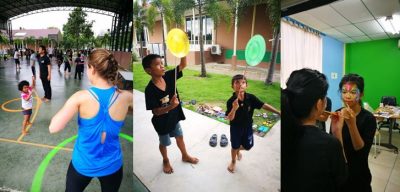 This big show not only offers the kids to discover and develop new talents but is also going to mark the end of our time here, which is neither easy for the children, nor for us as they already won our hearts right from the start.