Hello,
my name is Valentin from the MPL course LHG 12. I'm from the beautiful city of Munich and I'm 20 years old. Becoming a pilot is my childhood dream, and I'm of course overjoyed to learn how to fly with my classmates of LHG 12.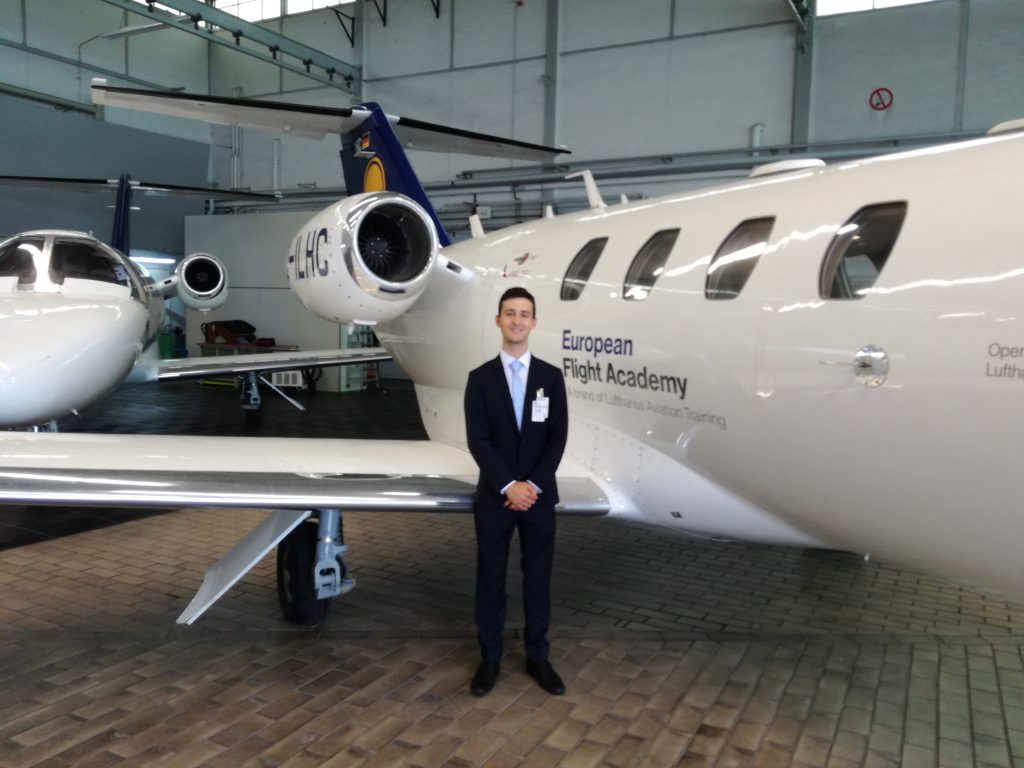 After Lukas recounted our first weeks in Bremen in the last blog entry, I would now like to have a look at the application and selection process. I have heard several rumors about this testing procedure, but it is hardly as bad as some might fear. Let's cover the most important steps to get into the European Flight Academy and, most of all, focus on issues that might be helpful for you during the process.
So how do you actually get into a course? Before you apply, you should consider the selection requirements very carefully. Try to eliminate possible weaknesses directly. I had no English in my senior classes in school, for example. That is why I went abroad for seven months after graduating to improve my language skills. Right before the application, I completed the TOEFL – this test is, however, not mandatory!
Definitely visit one of the information events before you apply! Not only are those very interesting, but they also give you the opportunity to get into contact with other applicants (and even prospective fellow students 😉 ).
Once you are sure that you meet all the requirements, you can get started with the actual application. It is important that you take your time with all the questions you are being asked and that, above all, you hand in an honest résumé. Remember that questions about your initial application can be asked in the later selection process at any time. Here is a tip: log your answers somewhere so you still know what you wrote months earlier.
So now the application has been sent and, after a short time, you are invited to the BU (basic examination). It checks general mathematical and physical knowledge, but also memory and your ability to concentrate. You have taken your first big step towards the cockpit! It also means that everything is about to start in earnest. If you applied for the MPL program, you now receive logins for the CBT (computer-based training) from the European Flight Academy. These do indeed prepare you well for the BU. Speaking from my own experience, I would say that these CBTs actually suffice for the BU. It is just important that you study hard on these tests and that you start early with the exercises. Create a learning schedule for yourself. It is not a problem if you cannot get into certain topics at first: try to compensate the deficits in these areas – in addition to the CBTs – by using (school) books and other exercises. The CBTs on mathematics, technical topics, and English should give you a broad overview which subject areas you should know. In general, one could say that the BU is quite doable when you are thoroughly prepared.
Another important item of preparation is travel planning. Come to Hamburg one day in advance, if possible. The many hotels near the airport are very comparable and offer an ideal space to get a little calm and time for yourself. On BU day, you should be well-rested and not too excited – you do not need to be because you are thoroughly prepared.
The BU is completed and a few days later the highly anticipated email arrives: passed!! You continue with the group qualification (GQ).
The GQ is (almost) all about your personality: on the first day you need to prove yourself within the group but also on your own.
In my opinion, the following is important:
Do not play-act. Just be yourself, because everything else will be recognized by the psychologists anyway within the two days.
Stay calm when you do the tasks and challenges. Of course everyone is nervous at the GQ (like I was 😉 ), but too much excitement will hurt your results.
When you feel that you failed a certain test, it does not mean that the test actually went badly. Often, the crucial aspect is not a certain number of points you need to obtain, but rather your behavior and the way you tackled the task.
The other applicants are your teammates, not your rivals.
After the first day of the MPL seletion process, they let you know whether you can come back for more testing. The next day contains the simulator test and the final interview. You can prepare for both quite well. For the simulator, it is important to keep the briefing in mind that you received right after the BU. A little bit of course calculation and a few simulator sessions on your PC at home won't do any harm. But you should not overdo it: the simulator at GQ "flies" differently than any PC game at home.
For the interview, you should think about every possible question beforehand. Think about where you stand, what your strengths and weaknesses are, why you would like to become a pilot (!), and be able to name the most important points of your résumé…
If you consider all these points, the GQ will likely end positively, too. But if you were not able to succeed in the GQ, you do not have to say goodbye to your dream job: you have proven your general aptitude in the BU and there is an alternative within Lufthansa Group with the ATPL selection process.
Passing the GQ is the best feeling in the world. I was infinitely happy and could not help but smile all day!
After the completed GQ you receive your medical examination. When this is done, you should start looking for a flat in Bremen 😉 (that's a story for another day…). Your dream is becoming true: as a student pilot at Lufthansa Group.
I hope this blog entry clarified the selection process a little bit for you. You can find more information on the website of European Flight Academy.
Happy flying and best of luck to you all!
Valentin