Hello you dear ones,
My Name is Georgia and I am 29 years old and flying as a flight attendant for the new Eurowings Base in Palma de Mallorca!
I remember the last time I read a Lufthansa blog was just before I applied for Eurowings. At around 4pm the online career chat with Eurowings was starting and I could not wait to ask my questions. The person answering me from the other side, convinced me to apply and travel to Palma de Mallorca a week before Christmas for the interview. Now I cannot believe I am back on this block and reading my own blog entry.
This was a lesson to me – always be flexible and take your chances. This is the flight attendant lifestyle. Now let me tell you a little bit about my work family.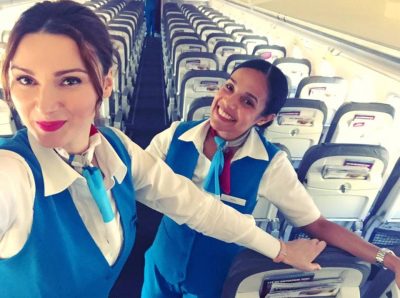 Eurowings Europe is a new developing airline which gives the opportunity to young creative and skilled people to make a career in Aviation. You can trust them when you leave your future in Eurowings hands. Believe me, I do have three years of experience from other airlines and I also have so many colleagues and friends working for several airlines in Germany, U.K., Dubai, etc. where things are more complicate and conservative.
At Eurowings you can make your career fast and easy while traveling the world. More bases are coming up during the next years. Who knows? Maybe one of those will be opened next to your city, and you can choose living wherever you love it most. I have gained so many new friends since I started doing this job. Now with Eurowings I am keeping this fascinating lifestyle alive. I love it when I have the opportunity to see so many places around the world with Lufthansa and the Star Alliance group since we belong to the same family. For me this is a benefit which not every cabin crew member has, especially not from the low-cost airlines. People in this company are all friendly, polite, modern, motivated and excited that they are working here. It is so important to be motivated. You can recognize it when you see the employees satisfied and feel a respect between the company and its workers, which nowadays is rare. We are happy to be part of this high quality low-cost Airline.
During my training I learned many new interesting things. The trainers were amazing. You need to meet Günter and listen his great stories based on his flying experiences and you will never again want to leave the class. Compared to other airlines trainings, this is far more compact and accurate on important Information.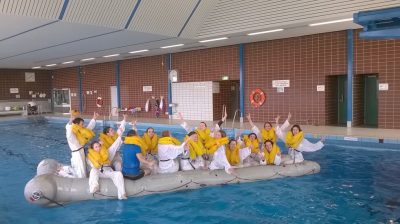 I finally flew from Vienna for a couple of weeks, our headquarters base, where I got to know new colleagues and friends as well. A base that hugs me like a family hugs their children. Now I am inviting them back, to my new home, Mallorca, to fly from there together this summer. Since June I am back in Palma de Mallorca at my newly opened home base, happy to motivate new upcoming colleagues, share new experiences with them while we meet new people and achieve goals together.
See you this summer in passionate Palma de Mallorca!
Yours,
Georgia