Hello from Berlin! My name is Svenja, I'm currently doing an internship within the HR department of Lufthansa InTouch. The internship is part of my course of study which is called "Intercultural Business Psychology" and I enjoy making new experiences at the office in Berlin.
I'm part of the recruiting team that is looking for candidates to join our local team of customer service consultants. Part of the recruiting process is to be present at different job fairs which are always very exciting.
I would like to give you an insight into that part of my job. We attended 3 different job fairs during the last 2 months and all of them were very interesting. We represented Lufthansa InTouch by talking to many candidates. That includes informing candidates about current job offers, working conditions and answering their questions.
It's fun to meet many different people in one day and I met people from every age – starting with students, up to older people looking for a new challenge in their career – as well as every background. That was an interesting combination which never gets boring.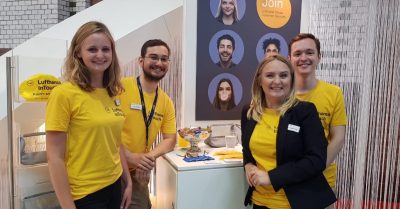 We also had extremely fun days with the team! We were always between 3-6 people, including members of the HR department and experienced customer service consultants. It was such a diverse day; we met many employees from other companies and got to know each other better inside the team. The atmosphere is very different compared to a day in the office.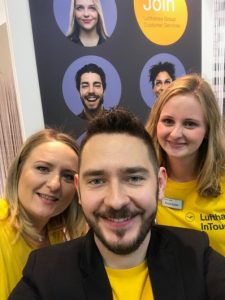 Each job fair took place for one or two days. The first one was in a shopping center in Berlin-Neukölln and it was the smallest of all 3. But there were still many companies and it was an interesting location.
The second one was bigger and located at StationBerlin, organized by the job center of Berlin. There was a wide range of offers for candidates, from taking free application pictures to CV-checks. The last fair we attended was "Jobmesse Berlin" and it took place last weekend. It was the biggest one of all three and was located at Mercedes-Benz-World Berlin. The weekend was very exciting and there was a lot going on!
All in all we reached many people and caught their attention by being present. I also had many interesting talks with suitable candidates and they directly handed me their CVs. It was great to experience a job fair from another perspective and we had such a fun time! I would join another job fair in an instant and I'm happy that I got the opportunity to have that experience.
I can't wait for more adventures in terms of my internship that are ahead of me!