Geographer, marketing specialist and mother. The roles each of us fills over time are complex: I grew up in a small Franconian town as a daughter and sister. I was an enthusiastic economic and social geographer; as a trade marketing manager I was responsible for trade campaigns; I lived in Munich, Frankfurt, Dublin and New York; I am a wife and a mother of a 10-year-old son. My name is Petra and I joined Lufthansa Cargo in October 2018.
Together with my colleagues Dawn and Andjelka, we are the first generation of the cargo.ahead program that Lufthansa Cargo has launched to inspire men and women to pursue a career in the air cargo industry after a career break. For 18 months, my colleagues and I work on three different projects to build up knowledge about air freight in general and about Lufthansa Cargo. Here is the link to the report of my colleague Dawn from June 2019.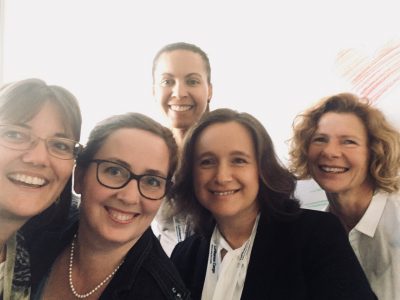 But back to summer 2018: The enthusiasm was great when, after initial contact with Lufthansa Cargo, I realized that cargo.ahead offers an interesting opportunity to re-enter workforce. After a successful assessment center and the final interview, I was accepted and the program was fast approaching. Excitement and curiosity mixed with questions: How will our family life change? How can we organize childcare? Out of all my professional experiences – what will be most relevant for Lufthansa Cargo? Switching from one industry to another, how can I bring added value to the company? How does the air cargo industry work?
The starting shot was fired in October: During the introductory week, we gained our first insights into the world of Lufthansa Cargo and got to know many colleagues. Today, almost a year later, I can still remember how impressed I was during these first days.
My first project started in the second week and led me into product management. There I worked for "Cool", a product that enables the transport of temperature-sensitive goods such as insulin. The first weeks in the project were a challenge because the necessary knowledge about products and processes is extensive. The technical jargon, but also the many abbreviations created many question marks on my face. But my colleagues showed great patience and were happy to share their knowledge with me. And after a short time, F/XG-I, JFK, IATA, PD, SPoT, WBT, CEIV and much more came to my lips fluently. And my understanding of all the topics grew day by day.
My second project is in the area of strategy, more precisely joint ventures. Many of you are probably familiar with the partnerships between airlines in the passenger business. In this project there are many interfaces to almost all areas along Lufthansa Cargo's value chain, including sales, handling, IT as well as the operative regions and headquarters departments. This gives me a good overview of the tasks in the various Lufthansa Cargo divisions. In return, I can contribute my communication experience to the team. Compared to my first project, my work here is much more conceptual.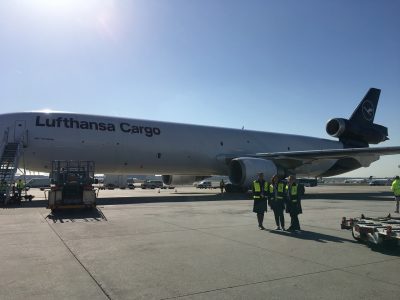 What does cargo.ahead offer in addition to project experience and the insight into various areas of Lufthansa Cargo? Personally, I really appreciate the exchange with the other two participants, on our projects as well as on topics such as leadership and career. The program offers a big scope, because it's up to us to decide what we want to focus on and which areas we want to gain insights in. Personal initiative and the will to take ownership are required. In addition to seminars and events, I am grateful for the intensive and personal exchange with my mentor – a really enriching element of the program. The fact that my previous projects came with a lot of interfaces, enabled me to build a broad network, which will certainly help me in my subsequent positions.
And how has our family life changed? Not everything can be planned, but as a family we have been able to master the new situation well so far, also because the working time models at Lufthansa Cargo allow a certain flexibility depending on the project. Our son became more independent during this time. And, of course, it's good for me to see how solutions to some questions "simply emerge" along the way.
In short: cargo.ahead is very versatile and varied and definitely the right choice for me.
Petra