Servus to all blog readers and greetings from the flight school in Bremen.
My name is Lennart and together with my course LHG12 I have been training to become an airline pilot at the European Flight Academy in Bremen. Now, after six months, we successfully passed our first big exams, which we call "the internals I". These exams dealt with all the lesson contents that came up until now. After this step, we get two weeks off, which is the perfect chance for me to tell you something about my experiences with Theory Phase I.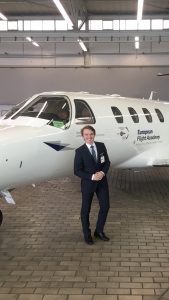 A few more sentences about myself. I'm 19 years old now, I come from a town near Braunschweig, and I'm the youngest in our class. I received my A levels in May 2017. After that, I immersed myself in aviation, but I had to wait until my eighteenth birthday to apply. To bridge the time, I began to study Business Administration and Engineering, but after a very successful first semester, I left university as soon as the path towards the European Flight Academy opened up for me.
Our classes began last August. We were 24 young people who were about to make a lifelong dream come true. The training began and the days passed very quickly. Very soon, our group became a community and we began to work as a team and be there for each other.
After class, we frequently met up for sports or fun barbecues or at a nearby lake, the Werdersee, when the weather was good. Apart from all the lecture rooms, which the students can use whenever they're free, the campus had great opportunities to do sports – on the playing field or at the gym – or to pass the time together.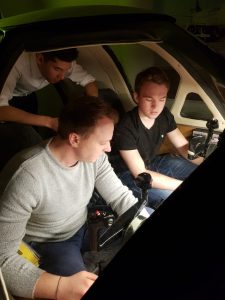 So, what did we learn in this first theory phase? We began with a brief introduction of several subjects central to what a pilot needs to know. Among these were meteorology, physics, aerodynamics and the basic elements of navigation. After about four weeks, new subjects were put on the syllabus, which included electrical engineering and instruments. In the latter, we mainly dealt with the central components and systems of a cockpit. We also learned how most instruments work, the diverse causes of possible errors and how you can compensate for them. In addition to this, we looked at flight risks, reading the weather and using weather information services. We also learned about the interpretation of clouds and maps in practice – all in the subject of meteorology. We also covered the structure and functions of aircraft in subjects such as "Airframes and Systems" and with the specific structure of small aircraft in "Powerplant" and "Performance".
That was all very theoretical. We soon looked at a more personal subject: the human being as a factor in aviation. This course at European Flight Academy is called "Human Performance". How can we address the limits of human capability in aviation? Under which circumstances can a pilot give his/her best performance for the flight process and safety? And how should a pilot cooperate with his/her colleagues? All these questions and many more are discussed under the auspices of a special team of psychologists. It really is the best preparation for a pilot career.
The first theory phase mainly deals with the basics and the theory of flying smaller and single-engined aircraft, while the second phase of training focuses on larger aircraft.
Next to all the theoretical lessons, we also already passed several very important practical exams in our time at the flight school. Just as my co-student wrote in a previous blog post, we already obtained the BZF I ("Beschränkt gültiges Sprechfunkzeugnis I für den Flugfunkdienst") at the Federal Network Agency. Here we could prove important skills concerning voice radio communication and visual flight regulations in German and in English. Voice radio communication will remain a part of the training until it is completed with the AZF ("Allgemein gültiges Sprechfunkzeugnis für den Flugfunkdienst") during the second theory phase. This is always something very special for me and I feel like I'm already in a real aircraft when we put on the headphones in Bremen and learn radio commands.
Another concrete step in this phase of training is an oral English exam. As you can imagine, we need to have good English to communicate from the cockpit, as it's the international language of aviation.
I just want to say how happy I am to have chosen this path. The training is of course exhausting because we have to learn so much in so little time. However, the atmosphere at school could not be better. There is such a strong team spirit within the entire class from the very beginning, which is so different from what I experienced at university. You learn together and swap ideas from day one, you deal with problems as a team and everyone looks out for each other.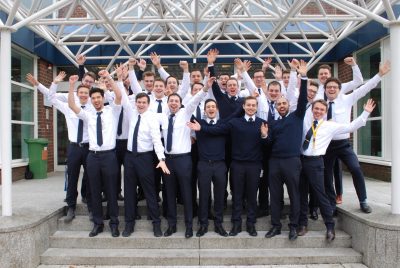 I hope we can continue to give you some insight into our daily lives and our training with our blog posts.
See you soon in Bremen
Lennart