Hello,
I'm Marvin and participant of the MPL course LHG 12 at the European Flight Academy in Bremen, just like Lukas and Valentin. I grew up in Kropp, a village in the middle of Schleswig-Holstein.
After my A levels and a positive basic medical examination (Berufsgrunduntersuchung, "BU") I used the time and began to study engineering at the TU Dresden, in which I eventually specialized on aerospace technology. Now, after three years of studies, I am more than happy to have come to Bremen since I took a big step towards my childhood dream of flying.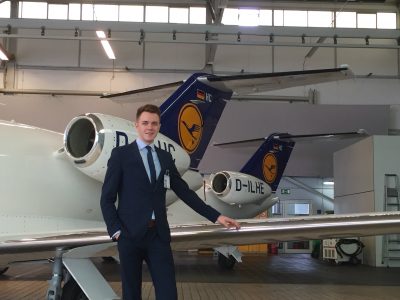 Today, I'd like to write about a topic that is probably most relevant for anyone who already passed the selection procedure. It's also key to everyone thinking about doing pilot training in Bremen: I'm talking about looking for accommodation.
You have passed the selection procedure and can already imagine yourself striding through the gates of the pilot school. But don't underestimate an important step: looking for a flat. Surely, some of you already have some experience in this regard, but every house-hunt in a new city brings new challenges. Which area is the nicest and how can I minimize my commute to the school? Where do I look for flats and are there things I should keep in mind as a student pilot?
I was told it's best if you browse for flats online early on and write to lots of landlords of flats you like in general, because of course many won't take you. Furthermore, join the Facebook group in which many student pilots rent out their rooms.
The Neustadt quarter in the south of Bremen is probably the favorite among student pilots –because of its close proximity to the airport and the pilot school. Depending on which corner you live, you need ten to fifteen minutes by bicycle. On the way, you frequently meet other student pilots on their way to school. There are also nice flats outside the Neustadt quarter, from which you can reach the pilot school easily by tram. However, I can't say a lot about those, since only a few of us live outside Neustadt.
It's up to you whether you prefer sharing a flat or living on your own. But, speaking from my own experience, I have to say that a flat shared with other student pilots has amazing benefits. I had searched for whole apartments but also flat shares. Unfortunately, I did not find anything in the Facebook group. But, with a lot of luck, I found a sublet room in a shared flat through a real estate portal –with two other student pilots as flatmates!
So, we are three aspiring pilots in the apartment and, as I already suggested, this has a lot of advantages. The two others are each in a AUA course (Austrian Airlines) and had lived in Bremen for a little longer than me. Thus, I could ask them about the first days or things to organize from the very start, which helped me a lot. In addition to this, we like to talk after class about topics from school, which helps us to fill gaps and to consolidate knowledge.
Mutual support has a very high priority at the European Flight Academy and we help each other wherever we can. But we plan to talk about the subjects and everyday school life in later blog entries.
I just want to mention a special aspect of flat-hunting via the Facebook group: the rooms are usually just offered for four months, because they are frequently sublet while the students are in the USA for their practical phase. However, four months are often enough to find another flat or to begin sharing a flat with colleagues. Sometimes, there is a little "wiggle room," as my Austrian flatmate once said, meaning you can stay a bit longer – as it was in my case.
So how's life in Bremen?
To be honest: you spend most time at school or at home at your desk and, whenever there's time, you do sports on campus or in the gym. But, whenever you want to escape everyday school life, you'll find that Bremen is a friendly and clean city. Especially the Weser boardwalk with its beer gardens is very popular. Don't miss the historic downtown district and of course you should see the Bremen town musicians.
As a whole, Bremen feels a bit more like a village than a city to me – and quite a few classmates agree. Maybe this contributes to why I like it here so much :).
In conclusion, I'd like to wish you lots of success wherever you are in the selection procedure right now, and also for any test you have to pass – and that you find a great place to live! I hope to see you soon in Bremen!
Best regards,
Marvin