I'm Dawn and a current participant of the cargo.ahead programme at Lufthansa Cargo. More about the programme later!
A short self-introduction; I'm 41 years old, British and living in Mannheim with my German husband and two boys aged 4 and 2 years. I was born in Nigeria and have family dotted there and in the UK.
I grew up and studied in England, went to Nottingham University where I attained a Masters in degree in chemistry, then wound up being a Chartered Accounting (equivalent to a "Wirtschaftsprüfer" in Germany) having trained at an Investment Bank in London.
I systematically worked my way up the ranks from leading a team of 5 by the age of 25 to running a whole Finance Department of 30 people spanning 7 countries by the age of 34. I worked in London, New Zealand, Ireland, Scotland and later in Germany with teams across Western Europe. I enjoyed my jobs although extremely challenging with high demands. I wouldn't change the path I followed as the last years shaped the person I am today as I learned how to manage the pressures of leadership in a very turbulent time during the biggest banking crisis for decades.
I left banking in 2014 shortly before the birth of my first son and took 4 years out of work to raise my little ones. Those years were very special to me but soon enough the desire to return to work crept up on me. I liked working and had worked hard my whole life to build a career. I wanted to continue where I left off, at least as best as I could with 2 small children. Like a lot of mothers in my position, I wasn't sure where to turn. That's when I got contacted about the cargo.ahead programme at Lufthansa Cargo.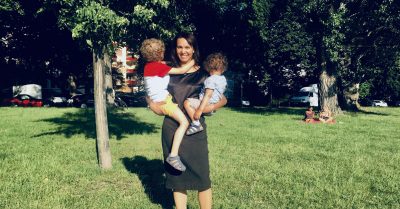 The programme is targeted at external talent who previously had successful careers but recently had some time out of work and looking to return back to the workforce in a new organization. Sounded perfect. Too good to be true even. A few questions came into my mind; how would it be to work for a German company? What are the cultural differences? What is it like in this new industry? Could I really utilise my transferrable skills and continue my career success in a literally new and foreign environment? Could I get by and build relationships with my limited knowledge of working German? Well, 8 months into the programme I can comprehensively say that the unanimous answer is "Yes" to all!
So how does the programme work? It runs for 18 months, during which the participants work on 3 strategic projects (approx. 6 months in length each) across different areas of the Cargo business. The purpose being twofold. Firstly, to discover the business, meaning how the business works, the people, processes etc. Secondly to contribute and add value from day 1. The role of the cargo.ahead participants is a lead role with interactions across many areas which helps raise visibility. Dotted in between, there are various courses and development training as well as numerous networking events. Each participant is given a mentor, whom holds a senior influential position, to offer advice and guidance. One of the top elements of the programme for me I might add.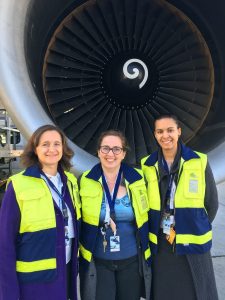 My first project was in the Finance Department which fit perfectly on a variety of levels. I guess Finance is my career birthplace so I felt right at home there. The topic was to scope a potential role of "Chief Economist" tailored for the Cargo business to bundle and deepen the macroeconomic competence and embed it into relevant processes. Why? The Cargo business is very volatile and the more insight into economic developments we can get at the earliest possible point can help prepare us for good or bad times around the corner. The project involved having meetings with virtually any business area that had a commercial focus, as well as interactions with external firms. It was a very exciting project and something that played to my strengths as it involved a lot of stakeholder engagement as well as an analytical aspect. Above all, it required me to understand how the business works and therefore the learning curve was steep meaning I learned a lot in a short space of time. As a result of my project, we now have this crucial role in place.
My second and current project is in the Global Handling department. As project lead for Supply Chain Management (SCM), my role is to scope the future SCM concept for the Cargo business including producing a business case. Completely out of my field and comfort zone content wise but utterly enjoyable. Change can be quite refreshing!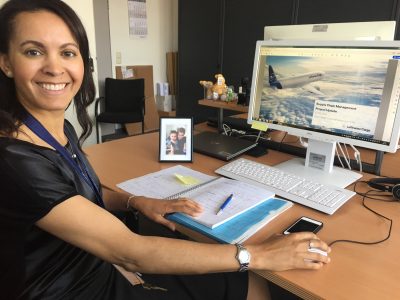 As someone from, one could say, another world, my observations so far are as follows. The Cargo business feels like a family business, colleagues are well connected and the Board are ever present. I quickly got the feeling that those at the helm are very much in control and know what they're doing. I found the colleagues very welcoming indeed and, above all, patient as I mumbled my way through meetings in German! To that end, my language skills have developed exponentially thanks to them. The work life balance element which is honoured at Lufthansa Cargo, allows me to come in and out of work with a skip in my step knowing I've achieved my work goals and my family life is still intact despite working full time. This is very motivating and has alleviated my worries about returning to work full time. The newness and unfamiliarity of almost everything made the experience challenging during the first 6 months. I'm someone who likes a work challenge so that was in fact a good thing. Occasionally I was met with some frustrations borne from trying to balance my Anglo-Saxon "pragmatic doing" approach versus the "measured and analysed" approach I've experienced here. Neither is right or wrong, it's just different and I believe the balance between the two that I've tried to find has been a fruitful compromise. And the small things such as the regular team lunch (not something I was accustomed to previously I must say) has helped me bond with colleagues and expand my network. Easy but effective.
For me personally, the on-going challenge of preserving my own "DNA" and continuing to plant my perhaps different approach and methods is important. A cornerstone of the programme is to bring fresh perspectives and challenge the business to adopt new ways, not to just conform to the existing status quo. As the saying goes, variety is the spice of life!
So all in all I feel I made the right choice. I knew Lufthansa was an attractive employer and now I can see why first hand. The test going forward is whether the openness to new backgrounds and thinking alleged by Lufthansa translates into a leadership job when the programme is over early next year. That and a pinch of luck that the right role comes up at the right time! I'm excited by what the future holds.
Dawn