Hello everyone!
The next application round just started and if you are reading this, you are probably thinking about giving it a try. Go ahead!
My name is Samuel. I was selected for the last Proteam generation and started in April. I feel honored and very lucky to be here, and I would like to share some thoughts on the application and the first months aboard Lufthansa.
I'm writing this from my desk in a Lufthansa Cargo building at the Frankfurt Airport. Never heard from Lufthansa Cargo before? Well, neither did I before Proteam! One of the first surprises here was to realize how immense the Deutsche Lufthansa AG is and in how many different areas do they work. My contact with the business world so far had been very limited. My background is physics and neuroscience. So why did I apply here? Because Proteam promised to teach me things that I would not find elsewhere.
I remember the assessment center quite clearly. It was my first one. I arrived the night before, slept ok (kept waking up each 10 minutes during the night – is it the time already??) and then went into the danger zone the next morning. My mental check-list: relax, take a deep breath, teach them what you've got, you can do it!
Actually, the day was amazing. We were warmly and personally welcomed, the atmosphere was exciting, the other applicants were all very talented and funny… And I learnt a lot! I never really liked the idea behind assessment centers, but in this one I really learnt something. The exercises were fun and ingenious, and in an abstract way they showed how work could be in the future.
If you are looking for some advice on the assessment, I will tell you the following: Enjoy it. It will be fun. It will be challenging, too. It is an opportunity to learn, watch, observe, even try things out that you never did before. Don't spend too much time thinking about how you are performing. It's impossible to control all the variables leading to your admittance, so just go all in with an open spirit and make the best of whatever happens. That seems to work fine for everything else in life, too (:
What comes next? A deep dive into the Lufthansa world. A lot of information. A lot of excitement, open doors and opportunities everywhere, lots of excitement – and surprise, surprise… Expectations too! In the beginning I was a bit overwhelmed. (Really? Did I really make it into Proteam? Wow! I hope I don't disappoint anyone now! ) That's just part of the game, too, and will fade away with time. As you see, we Proteams are human, too.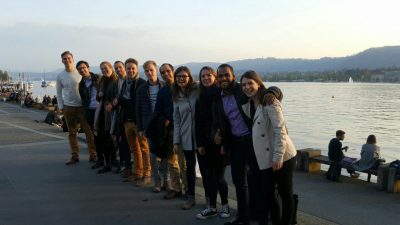 Before you realize it, you will be moving into your first project. And if you came from outer space like me, everything will be new. Take your time, talk soon with your supervisor about your expectations and the concrete project goals and steps. Learn.  And enjoy (: We will be here if you need any help!
So take a deep breath and go for it! Best of luck!