Hey,
I'm Valentin, a student pilot in the MPL course LHG 12 at European Flight Academy. By now, our program has been in the second theory phase for a few weeks, and our daily lessons have resumed after a brief holiday in February.
We recently enjoyed a very special fieldtrip on a gray and rainy Monday in March: an exclusive factory tour at Lufthansa Technik in Hamburg.
On this day, we had our regular morning lessons, and after a double period of HPL (Human Performance and Limitations), we eagerly departed for Hamburg in a six-car convoy.
Our class was very cordially greeted by the team at Lufthansa Technik. After a subsequent security check, we were allowed onto the impressive premises, where we learned that the first hangar for aircraft maintenance was put into operation as early as 1955.
A lot has changed since then: now the area is so big that employees take a bus from point A to point B instead of walking. The site is more like a busy town than an industrial park.
Our tour kicked off at the training workshop. Several machines, such as this drill press, are lined up there.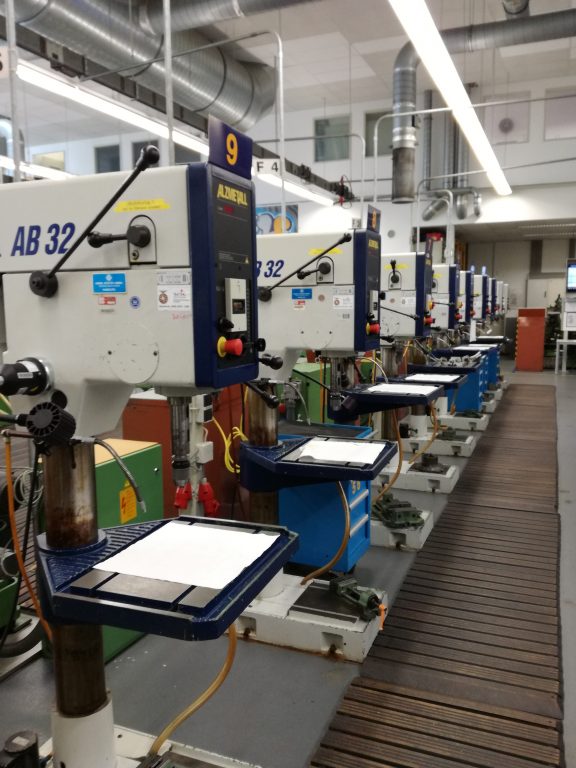 We also got to see an old A320 fuselage segment. The braces (frames and stringers) that help carry the fuselage structure were surprisingly easy to see. We learned about 'semi-monocoque' construction and fuselage maintenance here. Lufthansa Technik apprentices further learn about fuselage maintenance by affixing river sheets in order to fortify the structure.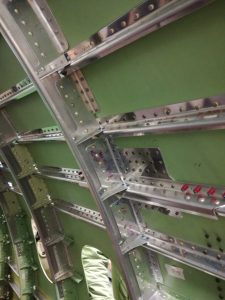 In yet another hangar, we marvelled at a General Electric engine, which is used in the Airbus A300, the Boeing 747, and the DC 10. It has so much thrust that it could keep 23.3 tons of weight hovering vertically in the air!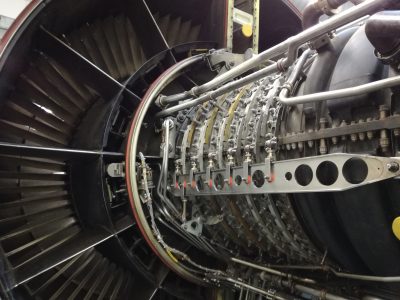 We were then invited to take a look at the big engine maintenance hangar. Here, within thousands of square metres, customers' engines are dismantled into their smallest components. Different parts are examined, meticulously repaired, and then properly reassembled.
Inside Lufthansa Technik's myriad aircraft hangars, you can find a large range of different aircraft: from regular airliners going through their routine checks to huge private jets equipped with every conceivable luxury and government aircraft preparing for special missions. Some of these top-secret projects are, for obvious reasons, hidden from spectators.
There is also a small chamber on the premises that holds relics from times past, like an old procedure trainer from the 1960s. Of course, we couldn't miss the opportunity to sit in the pilot's seat!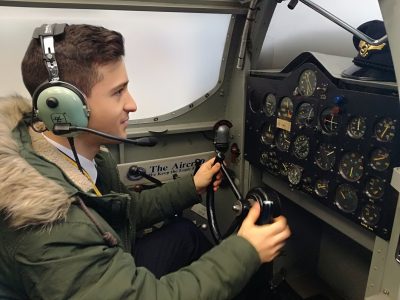 Speaking of flying, time flew by and our tour was over far too quickly. I think it was a great opportunity to see many of the subjects we study come to life, and to view the bigger picture. Many thanks to the ladies and gentlemen at Lufthansa Technik who made it all possible.
We couldn't end the day without paying the DLR (German Aerospace Centre) a visit – it's only one block away. This is, after all, the place where all of us came a lot closer to the dream of flying.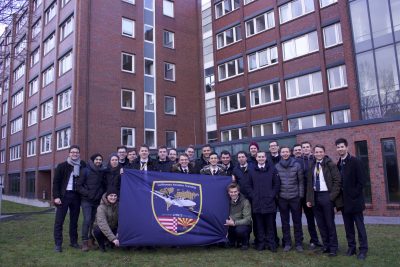 I hope you enjoyed the behind the scenes tour of Lufthansa Technik. Until next time,
Valentin