Happy New Year everyone and especially to you, our future Eurowings candidates who has just popped into this blog to find some answers for your questions. First of all I hope you had relaxing holidays and you are ready and determined to participate in one of our assessment days, because this job is one of the most exciting job ever. However, today as it is the beginning of the year we are not going to talk about the qualifications you should have to become a Eurowings Cabin Crew member but about the most attractive benefit Eurowings offer you with this job- the Staff travel.
Many pilots or flight attendants will not often talk about traveling with reduced price tickets, because they want to keep this secret benefit by their own, but I think the truth has to be told now. Staff travel is a reduced ticket which can be used by flight attendants, pilots, our family, partners and friends for our private travel on our off days and vacations. Therefore you pay your ticket online and be listed for the chosen flight but there is one difference. You do not get a normal ticket like other passengers, you get a standby ticket. However, if you have great luck and there are enough seats available, you can get your normal ticket at the airport. After you have gotten your seat and you entered the airplane you can relax as the most stressful part has finished. I am personally always introducing myself to the cabin crew of the day, because I'm really enjoying other flight attendants with different experiences. Other airlines have different uniforms, some differences in their service and other interesting facts, I am always happy to know.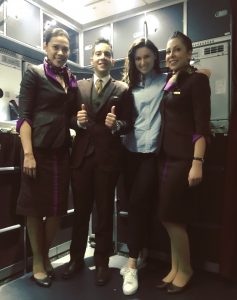 Alright, let's go back to vacation mood. This December I luckily got my holidays including the first day of the New Year in exchange on working during Christmas days. This is how we keep a roster balance here and the Crew planning department always tries their best to make everyone barely happy.
Only a few weeks before, I planned visiting an old friend of mine in Melbourne, Australia, an almost 20 hours trip from Europe. This trip was the most amazing trip I have ever done until now and I can still not stop uploading photos from my trip on Instagram. I visited many stunning landscapes, the weather was perfectly warm, the food was so delicious and during the whole week I had a lovely kicker jet lag. I will definitely come back one day! On this point of time I have to mention that I have been traveling with three different big Eurowings partner airlines and I flew with an Airbus A380 and a Boeing 787 Dreamliner for the first time which was an AMAZING experience for an aviation geek like me. All crews I have met on board were lovely and treat me flawlessly! Of course they knew I was an Eurowings Cabin Crew and they were sure I would do the same for them.
Back to work in Mallorca now and while getting some serious studying done as the recurrent is waiting for me around the corner and many tests I need to pass after one year with Eurowings. Please keep your fingers crossed I want to wish you good luck applying as a cabin crew member!
P.S. Here you will find some photos with some of the crew of partner airlines I traveled with the last year and who were really happy to photo-pose for my blog. Enjoy!