Hello fellow readers! Like all of the Lufthansa interns out there, I too have a story to tell.
Before completing my masters this year, I took it upon myself to find an internship in a field that is both exciting and constantly changing. To start, SPIRIANT seemed to be the ideal organization with a fresh brand, and in an industry which is completely new to me in terms of a work environment. What's more? A position in their Marketing & Communications department was available. Together, this seemed like the ideal opportunity to further develop and utilize the unique skill sets I have gained over this last year.
A little more about me…
One of my passions in life is travel. It's always a chance to try out new foods, perhaps pick up a new language, and learn more about other cultures. Growing up in Canada and having come from a Canadian mixed Italian background, I've always been interested in learning more about where I come from and what this means in the bigger picture. In light of this, I was driven to complete a Bachelor's Degree in International Business, but upon finishing school, I was still hungry to learn more and explore the world. This led me to the Master of Global Business program that would literally take me around the world. From Canada to Taiwan to Austria and several countries in-between, I lived, studied, and discovered these incredibly varying countries not only from a cultural perspective, but also from a global business perspective. The countless experiences and challenges I encountered along the way contributed greatly to my growth in strategic thinking, expanding my global mind-set, and of course strengthening my communication skills – a vital component to the success in the world of marketing and communications.
The nature of this position is a nearly perfect match for me to spark my creative fuse while putting to use everything I've learned so far. In my first month here, I have already worked on the revitalization of our SPIRIANT eBase page, and continued working on stories for our external communication channels including our recent blog posts, press releases as well as keeping our LinkedIn page up to date (check it out!). I have also been working on refining our current communication processes and helping to develop new strategies to make our internal operations run more smoothly.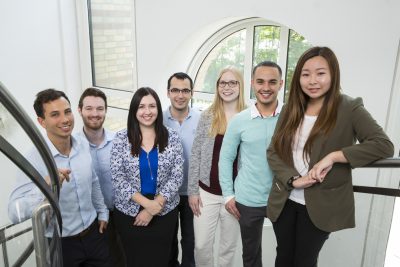 I've had the lucky chance to visit ALZEY, one of the Lufthansa kitchens here in Germany. In such a short amount of time, I have already been exposed to many different projects, and going forward I will continue working on the internal and external communications for the company. This internship is an opportunity to immerse myself in a new culture, a new language, and a new working environment, for which I know I will learn immensely during my 5 ½ month term here at SPIRIANT.