Buenos dias from Aguadilla! After Malte took you to Manila last time, I am going to take you – literally – to the other side of the world – the Caribbean.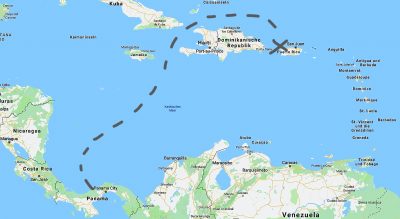 The travel to my foreign assignment took me from Frankfurt with a stop in Panama to my destination: Lufthansa Technik Puerto Rico (LTPR) in Aguadilla.
Aguadilla is a little pearl in the Caribbean, located in the very north west of Puerto Rico. The surrounding area is rather quiet. The biggest cities in Puerto Rico are San Juan and Ponce, which are both about a 2-hour car ride away. Big shopping chains from all over the world may be found in the bigger cities, not in Aguadilla. Here the shops are mostly local and small shops.
Puerto Rico has very much to offer. You will spend no weekend at home, bored and wondering what to do. Of course, there are many beautiful beaches, but you can find plenty of astonishing places in the center of the island as well. Aside from that, there are many activities breathtaking in both ways – of amazement and exhaustion. Many caves only wait to be explored, wild rivers want to be rode down in huge tubes, hiking in the jungle and there is Toroverde, one of the longest ziplines in the world. Many surfers come to Puerto Rico every year, as it offers some of the best surfing spots in the Caribbean. For me as a beginner there also are many suitable beaches to learn surfing – among turtles sticking their heads out of the water.
Besides all these activities, around Aguadilla throughout the year are many events, which you sometimes trip in by accident.
Once, exploring the area I stumbled over a VW Volkswagen festival where people from all over the island gathered in Rincon with their vintage cars. I was surprised by the amount of different cars and the condition those vintage cars are in – for me as an automotive engineer and car enthusiast a very precious discovery. Talking with the people, I learned that many Puerto Ricans really are crazy about vintage Volkswagen, too. I enjoyed this unique constellation of beach, sun, palms, positive people and the beautiful cars.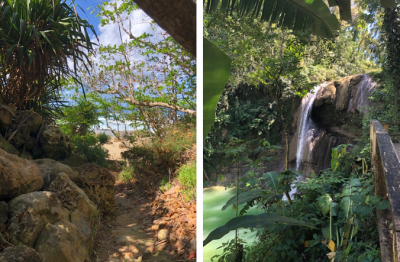 But now, let's talk business: LTPR is the youngest member of the Lufthansa Technik's Base Maintenance network and started operation in 2015. Currently, five bays are operating with the consideration of growing in the future. The product is the maintenance and overhaul of the A320 family for customers in the Americas. A specialty that LTPR has to offer: one of the bays is capable of stripping and painting complete aircrafts. Base Maintenance practices the principle of a well-working network with excellence. With companies in Budapest, Malta, Manila, Shannon, Sofia and Puerto Rico there are facilities all over the world. In Puerto Rico, we are far away from all other colleagues, but with the network at hand, we are integrated well and feel close to our colleagues in Asia and Europe.
I really enjoyed my foreign assignment in the finance department right from the beginning. I got to know the Puerto Ricans as very friendly and helpful, which makes it easy to feel welcome. For me as a mechanical engineer not only going to work on American soil, but also working in a finance department was an enriching experience. The finance team helped me a lot with the new territory I was learning and working in. Due to the small size of the team, I was able to work on a variety of different topics, ranging from daily business to interdisciplinary projects across different departments and countries. I will always happily remember the daily "popcorn meeting", a small gathering to share some freshly popped popcorn and have a little chat with the colleagues.
In my assignment, getting to know new colleagues was not limited to Puerto Rico. For a project, which all the facilities of LHT Base Maintenance are included in, I worked together with colleagues from Frankfurt, Shannon and Budapest.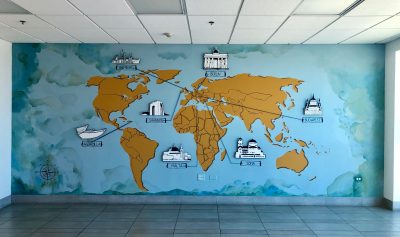 The only thing I miss in my current project, to be honest, is the proximity to products that can be seen and touched. In my first project assignment, I was working on engine parts. For a better understanding, I often went into the shop to see the different disassembly and assembly steps of engines. In my second project assignment, I could see the completion of an empty A319 becoming a special mission aircraft with a unique interior.
However, having hangars downstairs with five operating bays, aircrafts never are far and sometimes I go there just to feel the vibe and spirit of aircraft base maintenance.
I am very thankful to experience exciting projects abroad with all the likable colleagues and having the chance of spending four great months in my personal pearl of the Caribbean.
---
Profile of StartTechnik Trainee
Lukas Bechheim joined the StartTechnik graduate program in March 2018. Before, he studied Mechanical Engineering with a specialization in automotive engineering at the RWTH Aachen. Between finishing his studies and starting for Lufthansa Technik (LHT) he worked as an engineer in the automotive sector. His enthusiasm for internationality and high-tech products led his way to the trainee program of LHT. He gained his first international experience in two stays abroad in Oman and China for an internship and a semester abroad. Prior to his project in Puerto Rico, he worked as a project manager in a R&D-project in the engines department and got insights into the completion of VIP- and special mission aircrafts as a project engineer in Hamburg.