Hello there! My name is Lena and I work in the Employer Branding Team of Lufthansa Technik. Today I got a short interview with my colleague Minh for you, who tells us about his path and gives insights in his work as a Key Account Manager. He works in a very exciting field: They have to function with absolute dependability even under several hundred tons of weight, extreme forces and high velocity, when taking off and landing aircraft – I am of course talking about wheels and brakes.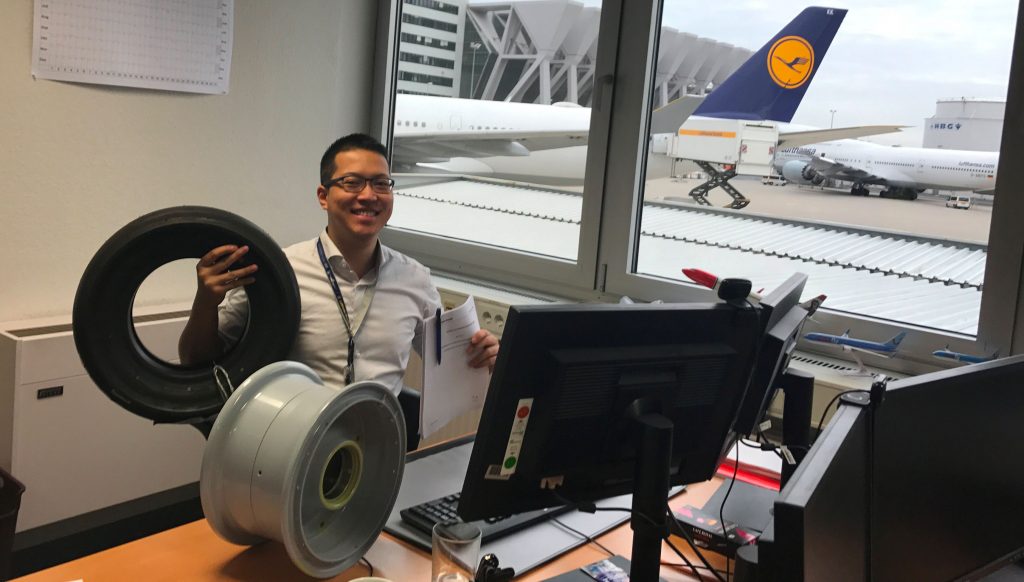 1) Who are you and what do you do at Lufthansa Technik?
My name is Minh Vu, I was born in Berlin and I am a Key Account Manager with Lufthansa Technik in Frankfurt. I offer tailored service solutions for the aircraft fleets to our customers, the operators, which comprise repair, maintenance or overhaul services of their wheels and brakes. Following this, we conclude a contract and I take over the customer support.
2) When and how did you start with Lufthansa Technik?
My first contact with Lufthansa Technik was through an internship with a subsequent thesis in Lean Management with the overhaul department for VIP aircraft. Since then I no longer want to miss the smell of kerosene in the air or the background noise of engines running up. Following the internship, I received the opportunity to complete the exclusive and diverse StartTechnik graduate program. After having taken part in four project assignments at our stations in Hamburg, Shenzhen, Berlin and Frankfurt, and hopefully having contributed my share to Lufthansa Technik, I am now a Key Account Manager in the area of Aircraft Wheels and Brakes Solutions.
3) What do you enjoy most about your Job?
The best part about my job is being able to individually offer our competent and experienced technical service in the area of wheels and brakes to our customers, from airlines to VIP aircraft owners. This is complemented by a manageable sized team, which guarantees close cooperation with our in-house shops, material planners and engineers.
4) What is the most challenging thing about your Job?
The most challenging thing about my job is to be able to quickly and competently fulfil our – thankfully – high demand and diverse customer requests. Demands, which are medium-term uncovered, let opportunity costs arise. Delivery bottlenecks might lead to an AOG – meaning aircraft on ground or flight cancellation – proving again the relevance of high availability of wheels and brakes in daily aviation.
5) One last question: What is your favourite day of the week and why?
The best day of the week is the one on which I look out onto the airport apron and aircraft of our customers roll by with "my" wheels and brakes.