Mercy Langat: born and raised in Nairobi, Kenya, studied in Miami, Florida, and now works in Bangalore, India. So how did her journey take her across the globe?
I had the pleasure of interviewing Mercy, who began her journey here at Lufthansa Technik a little over a year ago.
Before we get too ahead of ourselves, let's get to know her: she was born in Nairobi, Kenya; at the tender age of 18 she decided to pack her bags and move to Miami, Florida to pursue her Bachelor's degree in Strategic Communication from the University of Miami (Go Canes!). In her free time, she enjoys watching soccer, reading, and kickboxing.
She started her journey with us as a Corporate Sales Marketing Intern for Miami's beloved Nicki Wolf. She knew Lufthansa because it was the airline she'd always fly when going back home to Kenya, and she learned more about the company at her university's career fair. Fast forward a few weeks, and she became part of the Lufthansa family.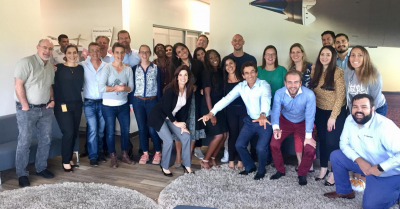 In the beginning, she did not know much about the MRO (maintenance, repair, and overhaul) business, but after getting more involved in the company, she fell in love with it. During her internship, she aided in the preparation, design, presentation, and marketing of Lufthansa Technik at events such as the Alta Leadership Conference in Panama, the MRO Americas Conference & Exhibition, tradeshows, after parties, and customer appreciation events.
When I asked Mercy about the highlights of her internship at Lufthansa, she quickly replied "Oh gosh, I have so many." She ultimately decided that attending the MRO Americas Conference was one of the most enriching experiences for her. She had the "…opportunity to really interact with people – not just from Lufthansa Group, but from the airline industry. It's so different from sitting behind a computer designing for people I don't even know." This experience made her want to get more involved.
Another noteworthy experience was when she was part of a team presenting sales pitches. Mercy was not planning on leading the sales pitch, but her colleague, Walter Mueller, encouraged her to present. Although she was nervous and reluctant to speak at first, she did it. And guess what? They ended up winning second place.
Going from Nairobi to Miami to Bangalore is quite the trek, so I wanted to know how Mercy found herself in India. Apparently, she had intended on going to graduate school upon completion of her internship – but she also had interest in working in the APAC (Asia Pacific) region. With Lufthansa being the global company that it is with offices throughout APAC in Singapore, China, Japan, Hong Kong, Thailand, Australia, and, of course, India – she knew it would be a possibility. She had a really strong support system here in the Miami office helping her look for opportunities in APAC (big shout out to Frank Berweger, Nicki Wolf, and Christine Bickmann). Like most people in this situation, she had to play the classic waiting game. An entire month went by with no responses. Then – *boom* – she had 3 offers on the table within a week.
Mercy has been in India for 3 months now as a Business Development and Communications Manager at Lufthansa Technik Services India (LTSI), and she's in love. "The office is very dynamic… very smart, very educated, and the people are very motivated and driven." She's responsible for increasing LHT (Lufthansa Technik) Group's footprint by leveraging on LTSI's core competencies in material solutions management and looking into different domains to make use of the technical and professional expertise that is in India. And she's currently creating a roadmap and developing a strategy for Lufthansa Technik Services India.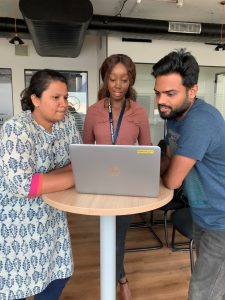 To wrap things up, I asked her if she had any advice for other interns. Here's what she had to say:
"Make yourself available. Make yourself useful. Do more than what's expected. You get to know more about the people, the processes, and create meaningful relationships. Get yourself out of the mindset that you're just an intern – you're a valuable part of the team."